Our innovative LED mirrors for bathroom spaces leave everyone surprised at IDEOBAIN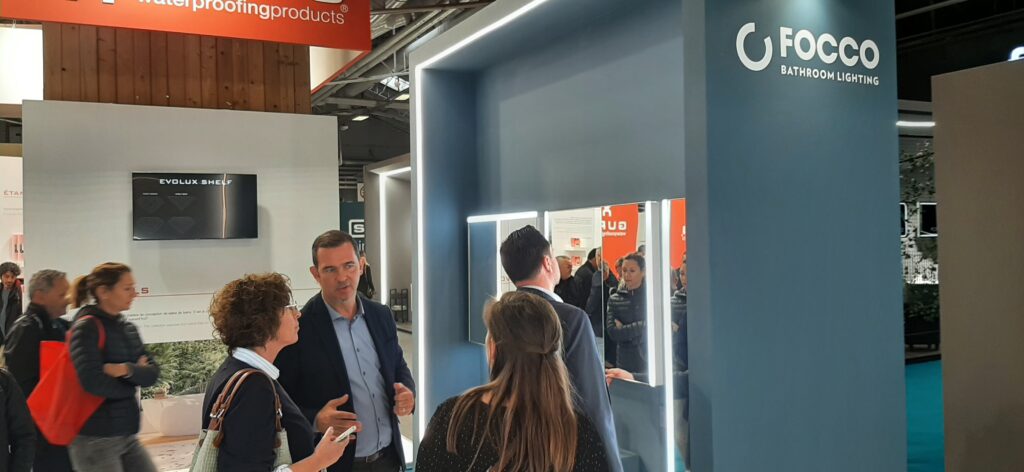 11 October, 2022
From 3 to 6 October, we were present in Paris (Porte de Versailles) at IDEOBAIN, one of the most important bathroom equipment fairs in France, to show off our latest innovations in LED mirrors for bathroom spaces to almost 350,000 international professionals who have visited the event.
For four days, we stood out at the event by presenting the latest products from our catalogue designed to create inspiring and functional bathroom spaces, in line with the latest trends in the sector.
Along this line, and in order to meet customer demands, our collections have focused on fluid organic shapes, metallic finishes and the latest-generation LED systems, which create surprising light diffusion effects and give mirrors a harmonious and very functional trend.
Collections that are also framed within the commitment we have to sustainability, since in all products we constantly apply improvements to LED technology with the aim of making it more efficient. In addition, we also strive for our products to reach our customers in more environmentally friendly packaging and, on the other hand, we continue to add more and more replaceable components to our collections.
Furthermore, at Focco we have taken advantage of this fair to present our new category of Organising Mirrors which, as Lourdes Quijano explains, "are a new product concept that provides high-quality lighting in a mirror with optimised storage space, a modern design, and decorative and high-quality materials manufactured in Spain. This new concept is undoubtedly the most successful among all the visits received and we are sure that there is a very powerful market niche for this new category. In addition, as Lourdes points out, we are a made in Spain company and our factory and supply chain are here, which allows us to guarantee supplies and offer a wide range of resources, as well as a series of Trainings for sellers to learn about our product first hand".
We at Focco return to Spain very pleased after exhibiting our products to professionals from all over the world and very grateful for all the visits we have been receiving during these days.